Learn how to create a colorful and inviting vintage fall tablescape perfect for your next dinner party or Friendsgiving celebration!
Have you ever had a Friendsgiving dinner?
For some people, that may mean a potluck kind of dinner around the time of Thanksgiving with close friends.
A fun time to share everyone's family traditions and favorite holiday dishes.
It's also a chance to share how grateful you are for your friendship.
What a great opportunity to display a gratitude tree!
My kids have actually gone to several Friendsgiving dinners like this.
How cool is that?!
AnnMarie and I have celebrated numerous Thanksgiving dinners together at her house because traveling back to our parents' homes isn't feasible for our families for both Thanksgiving and Christmas.
Her house is better suited for hosting a crowd since my "dining room" features a pool table…
Even though we get together on Thanksgiving Day, we still like to call them Friendsgiving because that's what we all are!
No matter what you call it, there's something special about hosting a dinner party in the autumn months, isn't there?
As the temperatures drop, we seem to have more time to cook.
Plus, the food this time of year is so. good!
You won't believe all the amazing THM-friendly Thanksgiving recipes I found that would be great for Friendsgiving too.
We love making our tables look special when we have friends over, and today I can't wait to show you my vintage-inspired fall table.
Friendsgiving Tablescape Inspiration
We're joining with some blogging friends to share ideas for Friendsgiving tablescapes and centerpieces, so grab your favorite cuppa and get ready for lots of gorgeous ideas!
Thank you so much to our friend Aliyah from Open Doors, Open Hearts for coordinating this fun theme.
Whether you're a regular Simply2Moms visitor, or you're new to our blog, or if you're visiting us from Aliyah's beautiful table, we're so glad you stopped by!
If you're new around here, we're Anne and AnnMarie, two moms who are lucky enough to be besties and neighbors.
That's me, Anne, in the white, and AnnMarie in the black.
We work together to share simple and budget-friendly ideas for decorating, recipes, DIY projects, and tips for life with older teens (and beyond!).
You can read more about us and our families over here.
And we would love to learn more about you! Be sure to say "hi" in the comments below and tell me where you're visiting from.
But that's enough about us…let's take a look at our vintage fall tablescape!
Posts on Simply2Moms may contain affiliate links which means we may earn a small commission on purchases at no extra cost to you. You can read our full disclosure policy here.
How to Create a Vintage Fall Tablescape
Lately, AnnMarie and I have been bitten by the vintage decor bug…
I grew up in a home filled with beautiful early American antiques (I always called them ant-ee-queues), and never really appreciated them.
My parents would drag us to antique shops in search of pewter, and tools, and shoe forms…
I hated it!
But now?
A trip to our local antique mall, or an antique shop, is such a treat!
If you've been following us for a while, then you know we do a monthly dinner club with some other blogging friends.
I always come up with the recipe, and AnnMarie creates our tablescapes.
So of course I had her come over to help me put this Friendsgiving table together!
Start with Fall Color
I always feel like fall lends itself to the warmth of vintage pieces so I knew exactly what I wanted to use for this table:
Amber.
Glassware.
I had some amber bottles but never bought any glassware.
I found these pretty glasses for $3 each at my favorite booth, and then stumbled across those gorgeous brocade placemats.
The placemats were only FOUR dollars.
Total.
For four of them.
I thought it was a mistake, but the label read "set of 4."
So they hopped in my buggy too!
I used my everyday white dishes as the base for my place settings and topped them with gold embossed bread plates I've had for ages.
Each bread plate is topped with vintage wood salad bowls that anyone who grew up in the 70s or 80s will probably recognize immediately!
The patina on these bowls improves every time they're used thanks to oily salad dressings.
The black iron-look flatware is from Olde Tyme Marketplace. Send Beth a message about the flatware if it's not displaying on her website!
If you have a larger group, you may want to create place cards like these for each place settin.
Texture is So Important!
When you're creating a tablescape, adding texture really brings everything together.
And during fall, somehow texture gives your table even more warmth.
These napkin rings add the perfect amount of texture to each place setting.
AnnMarie helped me put the napkin ring together using rattan napkin rings we got from Rod Works in Asheville. Send Jackie a message about them if you don't see them on her website.
Simple white napkins are adorned with sprigs of dried florals.
I love how the white napkins tie in with the white plates, and the napkin rings and dried florals add the touch of fall.
Baskets are a great way to add texture to your table.
Simply line a basket with a cloth napkin for a nice variation in texture.
And voila!
You have the perfect way to serve some delicious rolls or corn muffins.
Vary Heights for a Centerpiece
I know most people start decorating their tables with the centerpiece.
And usually, I do too!
But since my inspiration all began with those pieces for the place settings, that's where I started.
Once the table was set, it was time to create the centerpiece.
This Friendsgiving dinner is going to be a small gathering with just me, AnnMarie, and our husbands.
Since my table is rectangular, I chose to have each couple sitting side by side.
That meant my centerpiece could run the length of the table.
My skinny linen table runners fit perfectly between the placemats!
However, since they're short, I overlapped two of them to extend the full length of the table.
I like to keep things relatively low when creating a centerpiece.
It's important that everyone can see each other over the middle of the table!
Especially for a small fall dinner party like this one.
The highest part of the centerpiece is in the center of the table.
I stacked two vintage brick molds slightly off-kilter.
Then I placed two small pots filled with vibrant orange mums inside the top mold.
I placed a trio of mismatched vintage brass candlestick holders on each side of the brick molds.
I've been collecting these holders for a few years and love their warm patina during the fall months and the holiday season.
At first, I thought ivory candlesticks would look great.
But since my plates and napkins are white, I opted for white candlesticks instead.
AnnMarie filled in the spaces between the candleholders with dried gourds, decorative orbs, and some Indian corn.
Plus some amazing faux candles that look like old birch trees from Rod Works!
Aren't they gorgeous?!?
Table-long centerpieces don't have to match, they just need to be balanced.
One side of the table features vintage amber bottles, while the other has some vintage wood spools and the breadbasket.
We love using amber bottles in our fall decorating!
The dark brown pieces on both ends of the centerpiece keep it balanced visually.
When it's time to serve our meal, I'll pick up the pieces on the outer sides of the candlesticks to provide room for the serving dishes.
It was so fun putting together this Friendsgiving tablescape with AnnMarie using some old and new vintage treasures!
I've sourced some of the items below if you'd like to create a similar look.
Click on any image to shop items from this post

The next stop on our Friendsgiving table inspiration tour is our good friend Rachel from The Ponds Farmhouse. Wait until you see how she decorated some unique and natural vases for her centerpiece!
We've all linked up in a great big circle of friendship and inspiration, so you can easily visit each blog by connecting to the next blogger at the end of each post.
Or you can click or tap on any of the links below to visit a particular blog.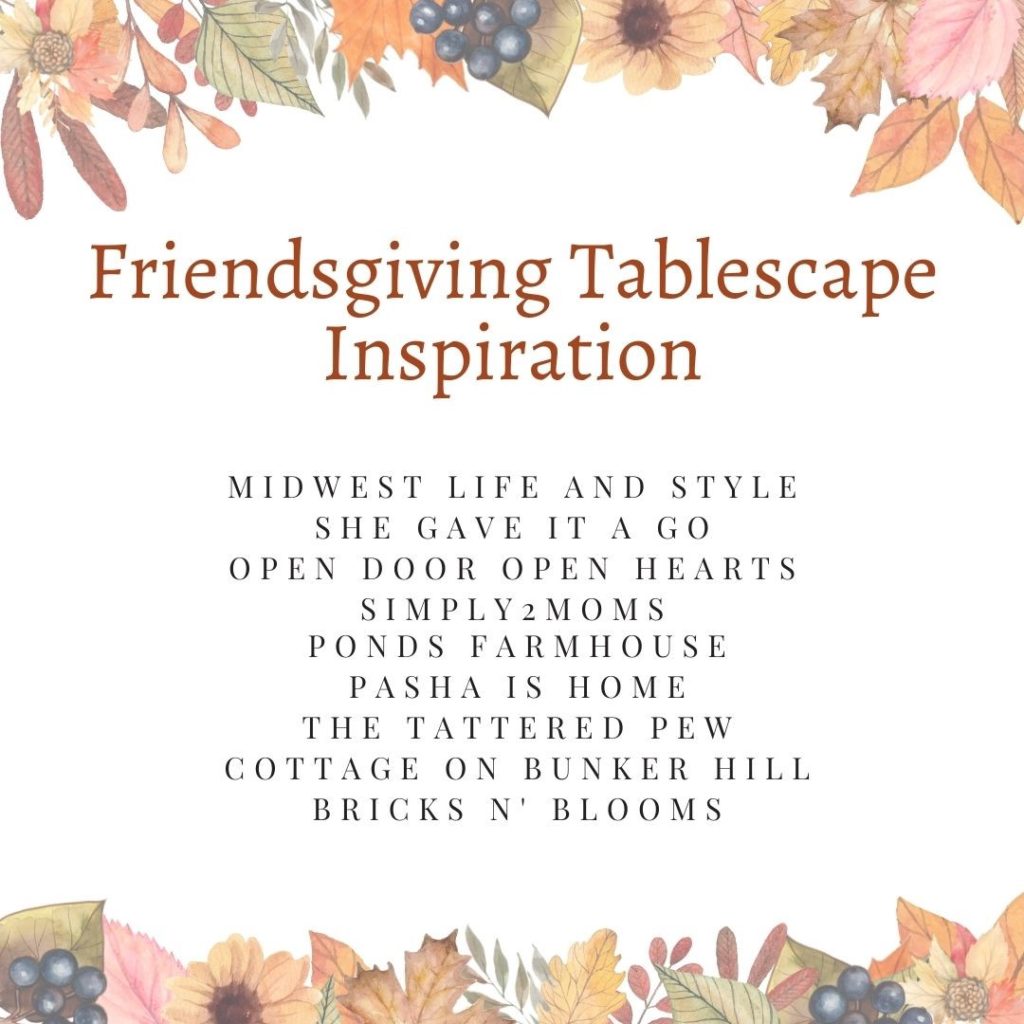 Midwest Life and Style | She Gave It A Go | Open Doors Open Hearts | Simply 2 Moms

Ponds Farmhouse | Pasha Is Home | The Tattered Pew | Cottage On Bunker Hill | Bricks n' Blooms
If you have any questions or suggestions, contact me or leave a comment!
Don't miss any of our tips, tricks, or stories! We'd love for you to follow us on social media! You can find us on TikTok, Instagram, Pinterest, and Facebook.
Pin it to Remember it!