Learn how to make an easy winter centerpiece in less than 30 minutes. Add this pretty décor tray anywhere in your home.
After the Christmas décor is packed away my home always feels a little empty.
Do you feel like that too?
The pretty twinkling lights are no longer shining on the tree.
The beautiful fresh evergreens I decorate with have dried out and been thrown away.
Our house feels a little bit cold and bare just like the weather outside.
I don't know about you but winter is my least favorite season.
In January I'm always craving some cozy vibes in our home to keep me going through the long winter days.
Last year, I grabbed some of my fairy lights and created a simple display for our family room to keep the twinkling magic throughout the winter months.
So this year after my Christmas décor was all packed away, I put together a winter centerpiece that I just love!
It was seriously so easy to make in just a few minutes.
And the best part…it didn't cost me a dime!
Yay for free seasonal décor!
Let's make an easy winter centerpiece!
What Supplies Do I Need to Make an Easy Winter Centerpiece?
Posts on Simply2Moms may contain affiliate links which means we may earn a small commission on purchases at no extra cost to you. As an Amazon Associate, I earn from qualifying purchases. You can read our full disclosure policy here.
wood dough bowl or tray
fresh cut evergreen stems or faux if you don't have access to fresh
This easy centerpiece isn't just for the middle of your dining table.
It can be used anywhere in your home…
kitchen island…
console table…
entryway…
bathroom vanity…
bedroom dresser…
pretty much anywhere you would add a decorated tray.
And the best part is you create the size that works perfectly for the area of your home that needs a little cozy winter décor.
I created this centerpiece for my kitchen table but also used it in a winter tablescape design and even moved it to my console table in the hallway.
It's really so versatile!
What Should I Use as a Base for a Centerpiece?
I chose a medium-sized wooden dough bowl that I've had for years for the base of my winter centerpiece.
You can use any size or shape tray as long as it has sides to hold everything in place if you plan to move it.
The nice thing about creating a centerpiece in a bowl or tray is that it's easily movable when you need to get it out of the way.
How to Add Fresh Greenery in Winter Décor
Just look outside your window and you may just find some evergreen stems to cut.
If you don't have any in your backyard maybe a friend or neighbor has some you can borrow.
Ok, so you probably won't be returning them. haha
And if you can't find any fresh branches, you can always use faux greenery stems from your Christmas stash.
I cut several stems from two different varieties of evergreen trees in our side yard with a pair of small handheld pruners.
There are several Leyland cypress trees that we planted along our property line years and years ago.
The other variety of evergreen may be a Japanese cedar but I'm not 100% sure.
If you know what it is drop me a comment below to let me know.
Next, I filled each of the bottles up with some water so the greens wouldn't dry out as quickly indoors.
You can use any kind of glass bottle or small vase for your centerpiece.
But I really love the look of the pretty natural evergreen stems in the brown vintage amber bottles.
Both Anne & I started collecting amber bottles a few years ago and love using them in our fall home décor and fall centerpieces and Thanksgiving tablescapes.
After bringing the clippings inside, I simply trimmed the bottom of each stem by pulling off the bottom branches so they would fit in my vintage bottles.
I grouped five amber bottles together in the middle of my dough bowl where it's the flattest so they were stable.
Then, I added fresh-cut cedar and cypress evergreens to the glass bottles.
Since the bottles are grouped closely together, I only needed one stem in each.
But if you prefer it more full then go crazy…add as many stems as you want!
Why Should I Use Pinecones in my Home Décor?
I always have a big bag of pinecones on hand to use during the fall and winter seasons in my home décor.
They're a great vase, bowl, or basket filler!
Or even scattered around a pretty but simple tablescape design.
And they are super affordable!
Like free if you're lucky enough to have some around your house or neighborhood.
I filled my dough bowl with pinecones in different sizes and shapes around the vintage brown bottles.
Isn't the texture of the pinecones awesome?!
Using more frosted rather than natural pinecones gives the centerpiece more of a wintery feel.
I just love the combination of the dark brown glass filled with fresh greenery with the lightly frosted pinecones.
How to Bring Some Sparkle to a Centerpiece
Although I love how this easy winter centerpiece turned out, I think it could use a bit of sparkle.
What do you think?
To add a little twinkling magic for those long winter days, I grabbed a set of fairy lights from my Christmas bins.
I'm actually thinking I may leave some of these little light strings out in my office storage closet so that I can use them all year.
Because I'm sure there will be other seasons when it would be beautiful to add a bit of twinkle and sparkle to my home.
After filling the bowl with pinecones, I tucked the battery pack in the bottom of the wood dough bowl.
Be sure to wrap the excess wire that doesn't have any lights around the battery unit.
Then set the timer on the lights so they automatically turn on every evening.
Next, weave the string of fairy lights around the pinecones in the bowl.
The wire is super flexible and easily wraps around the pinecones to hold the lights in place.
Then just cover the battery compartment with a few more pinecones to hide it.
And you're done!
Easy peasy!
The spiky texture of the cedar stems mixed with the feathery texture of the cypress clippings is such a pretty combination.
We planted the arborvitaes when we first moved into our home so they are really tall now.
This is great because you don't even notice when I clip a bunch of branches to use indoors.
If you have smaller evergreens you may want to use branches from the bottom so you don't leave a hole in your shrub.
I love the way the fairy lights glow between the pinecones and reflect in the amber bottles.
It's just so beautiful!
This easy winter centerpiece creates the perfect cozy feel to brighten those dreary long winter days.
Click on any image to shop for items from this post
wood dough bowl | vintage amber bottles | twinkle fairy lights | pinecones | faux cedar stems | faux cypress stems | garden pruners
Winter DIY Home Décor Blog Hop
Thank you to our good friend Jen from Midwest Life and Style for coordinating this blog hop.
Be sure to check out all the other amazing bloggers on the tour too.
Just click the link below each photo.
Winter DIY Home Decor Blog Hop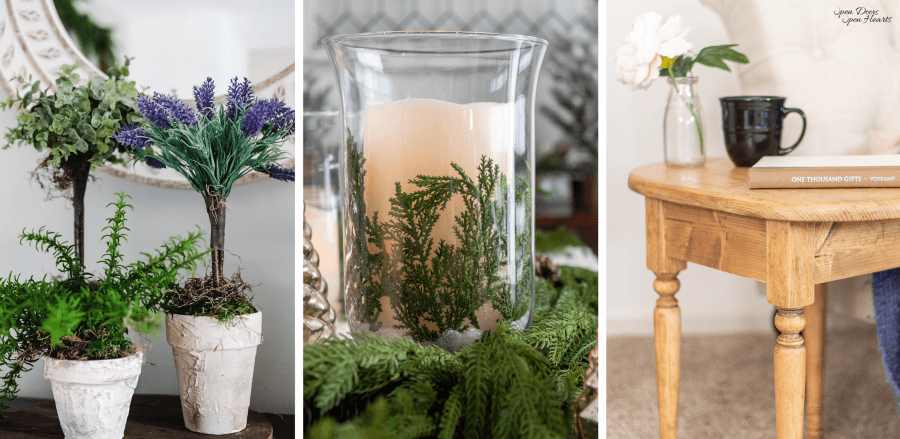 Cottage On Bunker Hill | Midwest Life And Style | Open Doors Open Hearts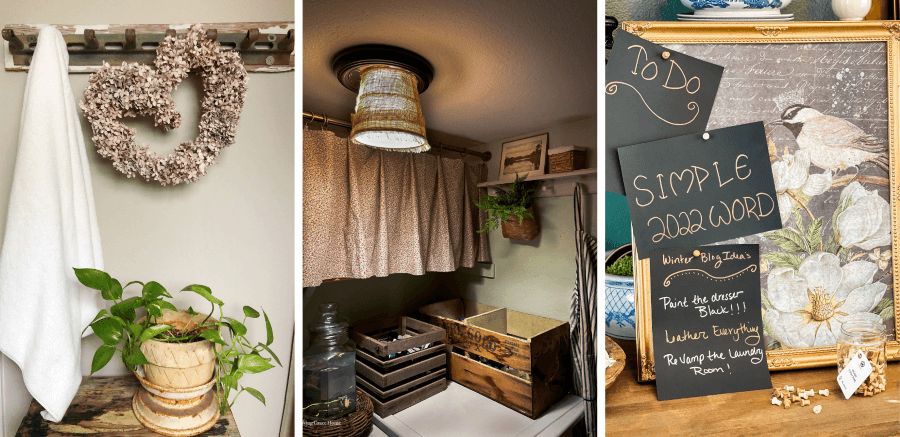 Vintage Home Designs | Loving Grace Home | Amy Sadler Designs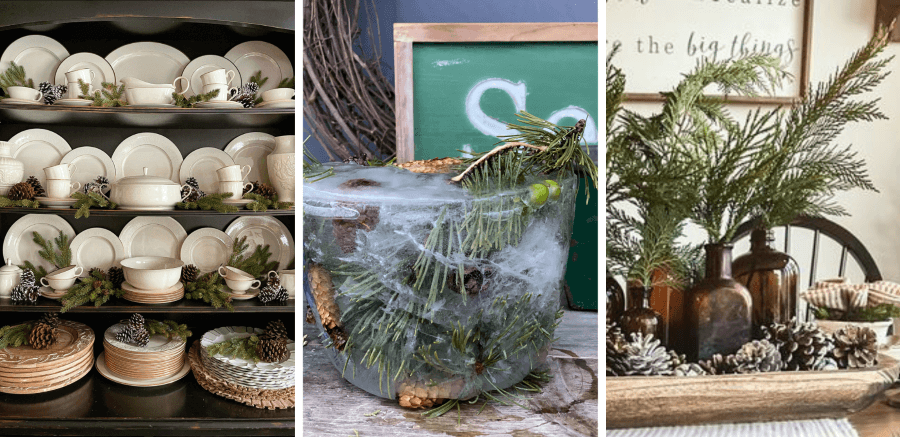 If you have any questions or suggestions, contact me or leave a comment!
Don't miss any of our tips, tricks, or stories! We'd love for you to follow us on social media! You can find us on TikTok, Instagram, Pinterest, and Facebook.
Pin it to Remember it: